Cannabis oil is extracted from cannabis plants. When cannabis oil is unprocessed, it contains the same active ingredients that are found in the plants; however, the level of compounds changes based on the specific plant that the oil is extracted from. The two main active ingredients found in cannabis plants are known as cannabidiol (CBD) and tetrahydrocannabinol (THC). When oil is extracted from hemp plants, it generally contains a high CBD content. On the other hand, when oil is extracted from marijuana plants, it generally contains more THC. 
THC is the compound that results in a high or euphoric-like effect that most recreational users look for, while oils are used medicinally and contain mostly CBD. The biggest takeaway from this is that cannabis oil will not cause any type of high or intoxication.
In terms of the legality of CBD oil, it varies. If CBD oil is derived from the hemp plant, it is federally illegal. However, if CBD oil is derived from the marijuana plant, it is federally illegal. State laws surrounding the legality of CBD oil and other CBD products vary state by state.
Is Cannabis Oil Used Medicinally?
CBD is considered an anticonvulsant, as well as some different compounds within the plant, such as THC and cannabidivarin. There have been many studies from clinical trials throughout the U.S. and Europe that show pharmaceutical CBD is effective in treating serious forms of epilepsy, like childhood epilepsy (Dravet Syndrome) and Lennox-Gastaut syndrome (LGS). Oftentimes, these forms of epilepsy do not improve with epilepsy drugs that are out there today. Studies have shown that CBD is generally safe, but some research has shown that individuals may experience side effects, such as lightheadedness, dry mouth, and elevated liver enzymes.
Cannabis Oil For Pain Management
An interesting fact that many people are not aware of is that the human body creates endocannabinoids, which are the neurotransmitters that connect to the cannabinoid receptors. Endocannabinoids are similar to the cannabinoids that are similar to the Cannabis sativa plant. The endocannabinoid system is known as the cell-signaling system, which allows the receptors in our brain and immune system to encounter the chemical indicators from a wide range of stimulants, which results in a response in the cells. The endocannabinoids found in our body allows us to experience both anti-inflammatory and pain-relieving reactions. Studies have shown that CBD oil may be effective in helping individuals with chronic pain relief.
Some of the chronic conditions that may benefit from CBD include:
Arthritis:

 

In a 2016 study, researchers discovered that CBD used topically on rats that suffered from arthritis showed a significant decrease in inflammation. The researchers used CBD topically on rats for four days and determined that CBD was effective in relieving arthritis pain with no side effects.
Today, many people use CBD oil for arthritis pain relief; however, more studies need to be done to determine the efficacy for humans.
Multiple Sclerosis:

 Multiple sclerosis affects the entire body and when it is impacting the nervous system, it can be incredibly debilitating. The autoimmune condition causes muscle spasms, which can be extremely painful. One study discovered that CBD oil may be helpful in reducing the amount of muscle spasms one may endure and many people who have used CBD oil for multiple sclerosis pain relief reported an alleviation in symptoms.
Cancer Treatment Side Effects:

 

Cancer patients undergoing chemotherapy experience many side effects, including pain, loss of appetite, nausea, and vomiting. Although further research is needed to determine the level of reduction in cancer treatment side effects that CBD provides, it is a common option for patients who are undergoing chemotherapy.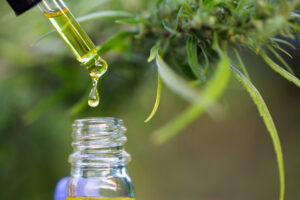 Other interesting uses that CBD oil may be used for medicinally include:
Anxiety and other neurological disorders

Depression 

Acne 

Heart health
If you wish to try cannabis oil for a certain condition, it is a good idea to speak with a doctor and do your research in terms of what strength may work best for you.
Different Strengths of Cannabis Oil
An important thing to know about CBD oil products is that there are a variety of different strengths on the market. For example, if you have searched for CBD oil on the internet, then you have likely come across different strengths, such as isolate, full spectrum, and broad spectrum. CBD oils are categorized by their type of ingredients and the certain type of use it's intended for. 
Full spectrum: Full spectrum products are one of the most common CBD oil products on the market. Full spectrum CBD oil products contain more than just CBD, as it also contains CBDA, CBD, and a small amount of THC (0.03%), which is not enough of the psychoactive compound to result in a high. Full spectrum CBD products are known for bringing about a more distinct and smoother effect, as the other cannabinoids that the oil contains work synergistically with CBD.
Broad spectrum: Broad spectrum CBD oil is similar to full spectrum products; however, the one difference is that the THC has been chemically drawn out.
CBD isolate: CBD isolate is pure CBD, which makes it very strong and powerful. This type of CBD oil is generally used for individuals who suffer from insomnia. 
Is CBD Oil Legal?
If CBD oil is derived from the hemp plant, it is federally legal. However, if CBD oil is derived from the marijuana plant, it is federally illegal. State laws surrounding the legality of CBD oil and other CBD products vary state by state.

About Waferz
Our team at Waferz strives to be a reputable resource for education, providing valuable insight about cannabis products and the industry. We are dedicated to keeping you abreast of the latest news and developments surrounding cannabis, ensuring that the information received helps you stay informed and connected. With years of experience in the industry, our team is committed to helping individuals in the community accurately capture the variation of cannabis, its uses, latest developments, and more. We strive to be a reliable resource in the cannabis industry, utilizing years of experience, skills, and research to help you stay informed and connected. Learn more about hemp with Waferz at https://waferz.co/learn.
---